As the holidays are approaching, many of us are already trying to figure out what we're going to wear, how we're going to do our hair and makeup, and more!  The holiday seasons brings out a creative spirit in beauty gurus, and thanks to social media, they get to share their creations, some of them becoming viral.  Every year there's always certain trends that are super popular, one year straight cut bob was the hairstyle, matte lips came into style later on, and trends are always changing.  2017 was no exception, especially during the holiday season! So we have the top 3 holiday beauty trends of this year, some more tame than others haha.
Christmas Tree Eyebrows
This year we've had the feather brow, the wavy brow, and now we have the Christmas tree brow.  We have to give credit to Taylor R (@taytay_xx) for creating this unique looking brow.  This is not for the faint of heart.  This look is bold for sure, and while we wouldn't wear out, we have to admit it is genius and beautiful.  It's one of the top trending topics on Twitter right now, and fans of Taylor's art decided to try their hand at it, tweeting pictures to her.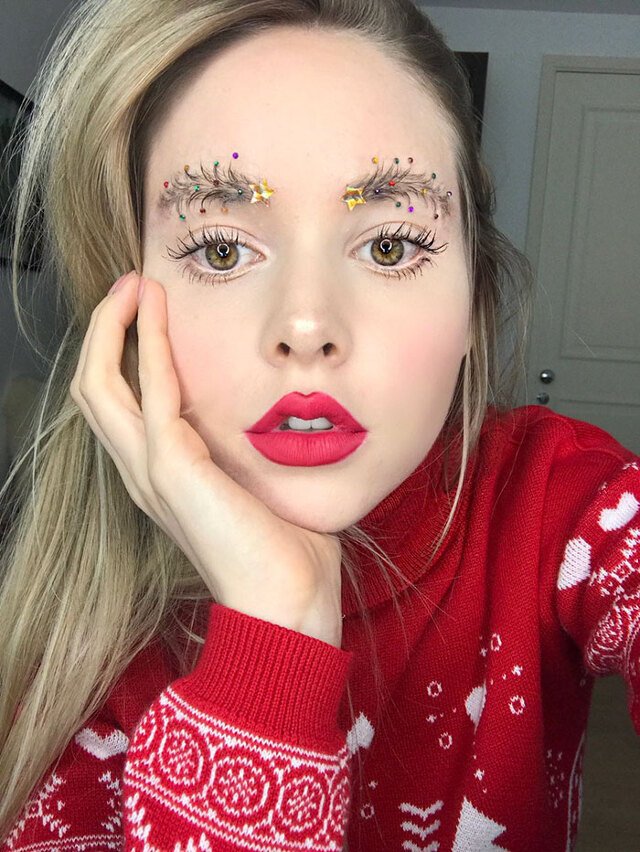 Christmas Tree Eyebrows are here. Why stop at your sweater? Spread Christmas joy via your face. 🎄✨😏 #ChristmasTreeEyebrows
(See full video on my YouTube channel) pic.twitter.com/ogLXNnR6j6

— Taylor R (@iamtay_tay) December 6, 2017
I did it!! #christmastreeeyebrows @iamtay_tay 🎄✨😘 pic.twitter.com/8laiAAORwN

— Obsercule🎄✨ (@Br00k3_A) December 7, 2017
A little elmer's, paper, & pipe cleaners to recreate @iamtay_tay #ChristmasTreeEyebrows pic.twitter.com/9zFlLEuX6N

— Lavinnia Doodle (@LavinniaDoodle) December 6, 2017
@iamtay_tay #ChristmasTreeEyebrows pic.twitter.com/znXjO2aDGj

— Dino🦖 (@DMunchies) December 6, 2017
Ugly Sweater Nails
We all have an ugly holiday sweater…if you don't then are you really celebrating the holidays right?  We even throw ugly holiday sweater parties.  Well now we're taking it to the next level with ugly sweater nails.  For something that is supposed to be "ugly", they're amazing.  People have gotten really creative, adding texture to their nails to make them look like 3-D knit fabric, and drawing really intricate lines and patterns.  They add a festive touch to your everyday looks without being too out there!
Ugly sweater party time @nailstyle @Nailitmag #nailart #sweaternails #nailswag #manicure #nails pic.twitter.com/gcED2f2sfx

— Sanja Hefer (@osijek69) December 10, 2017
Ugly Christmas sweater manicure 🎄 on a base of @BarryMCosmetics Surfboard and @ChinaGlaze Ruby Pumps 💅🏻 #Christmas #notd pic.twitter.com/92JIQBbFQr

— Amy👑Someday.💎 (@londonbrolly) December 23, 2016
We have #sweaternails to start off 🎅#Christmasnails 🎄 #nailart #notd #holidaynails pic.twitter.com/lHGhkmBvSI

— sezjeuric (@sezjeuric) December 7, 2017
Sweater design on the holo base @Nailstyletweets #nailart #nailstamping #winternails #nailstyle #nailtrends #manicure pic.twitter.com/w4PgnXeSgg

— Sanja Hefer (@osijek69) November 25, 2017
Ofc my nails match my new xmas sweater 😍✌️ pic.twitter.com/oUEnLqZSUH

— Gouta be fresh 💬 (@rollingBro) November 27, 2017
Glitter, Glitter, Glitter!
2017 was the year of glitter.  Glitter EVERYWHERE, and as we get closer to New Years Eve, it's like a glitter overdose (not that we have a problem with that, who doesn't love glitter).  The most popular use of glitter right now is glitter eye shadows or eye makeup looks.  The glitter not only reflects light which makes your eyes pop and look bigger, but also it can come in a variety of colors making it the statement piece of your whole makeup look.  Beauty gurus have also started using glitter on their lips, which is a much more adventurous style.  This is the one trend that will probably stick around for a while, like winged eyeliner.